The Peel Regional Police Auxiliary Program consists of 137 highly trained Auxiliary Officer volunteers who represent the diverse cultural backgrounds, careers and age of the residents in the Region of Peel.
An Auxiliary Officer's role is to support police officers by volunteering their time participating in community events, the RIDE program, patrol escorts, emergency callouts and a variety of other events throughout Peel Region. Some Auxiliary Officers use the training and experience they have gained in the program to pursue a career in policing.
Auxiliary Officer Activities
Auxiliary Officers support our police service in many ways, including:
Frontline uniform patrol escorts.
RIDE (Reduce Impaired Driving Everywhere) program.
Callouts to assist with high-priority investigations.
Community outreach and education.
Citizenship court assignments.
Auxiliary Officers participate in community charity events, such as:
Toys for Tots.
Food drives and fundraisers.
Hospital visits to children at Christmas.
Peel Children's Safety Village.
Car-wash for cancer.
Gathering, sorting and shipping resources for emergency aid and relief.
Our Auxiliary Officers dedicate numerous hours participating in the following special events:
Canada Day Celebrations.
Santa Claus Parade.
Remembrance Day Parade.
Bread and Honey Festival.
Khalsa Day parade.
Minimum Qualifications
The criteria to be accepted into this program is similar to that expected of our constables.
Applicants are required to meet the following qualifications to apply to the position of Auxiliary Police Officer:
Be at least 18 years of age
Be a Canadian Citizen or Permanent Resident of Canada
Be of good moral character and habits
Hold an Ontario Secondary School Diploma (Grade 12) GED or equivalent
Willing to provide a 2 year commitment to the Auxiliary program and volunteer a minimum of 12 hours per month
Successfully obtain a minimum score of 65% on the Ontario Fitness Awards Program Test (PIN Test)
Provide all information related to an appointment or discharge in respect to any police service or armed forces
Be in good health and meet the physical, mental and medical requirements of the Peel Regional Police Service
Possess a valid "G" class driver's licence with no restrictions
Have never been convicted of a criminal offence, or if convicted, have received a full pardon/record suspension
Private investigators or people whose job or lifestyle may pose a conflict of interest are not eligible to apply to the position
Meet vision and hearing requirements as outlined by OACP.
Must receive the approval of a selection committee
Must agree to abide by the directives of the Peel Regional Police and the Regional Municipality of Peel Police Services Board.
Will be required to attend all training sessions, which consists of 160 hours of training that takes place between January and April.
Must have received, or be scheduled to receive, the approved full dosage of COVID-19 vaccination by date of hire, in accordance with the recommendation of Ontario's Chief Medical Officer of health.
Training Sessions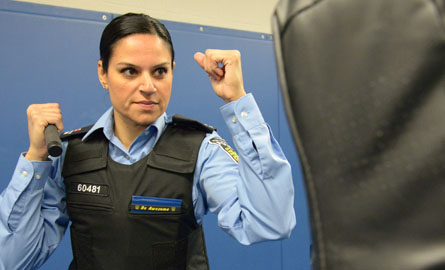 Auxiliary Recruits receive 160 hours of training over a four-month period. Training takes place on specified weeknights from 7 p.m. to 11 p.m. and some Saturdays from 8 a.m. to 4 p.m.
Accommodations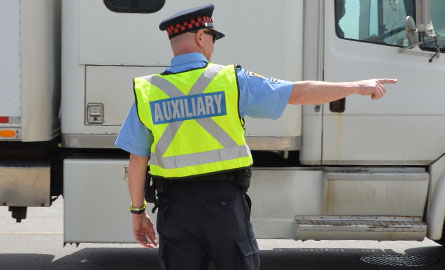 Consistent with the requirements of the Ontario Human Rights Code, accommodation will be provided to qualified applicants with a disability, to allow their participation in the recruitment process. Requests for accommodations should be made to the Inspector of Staff Operations. Applicants must provide sufficient detail to enable Peel Regional Police to respond to their request.
A qualified applicant with a disability is a person who meets the qualifications of the role and who can, with accommodation, perform the essential duties of the position safely and effectively.
Contact Information
If you want to speak to us about the program either on the phone, or in person, contact our Auxiliary Police program.
Compatible Browsers
See below for a complete list of supported browsers and versions for our online application system.
Firefox
Firefox 38 Extended Support Release, and Firefox 42 Rapid Release at a minimum are supported.
Chrome
Chrome 43 Rapid Release for Windows, and Chrome 5 for Android at a minimum are supported.
Explorer
Explorer 11
Explorer 11 is supported.
Microsoft Edge
Microsoft Edge 25.10586 at a minimum is supported.
Safari
Safari 8 for OS X, and Safari 8.0.2 for iOS at a minimum are supported.