Peel Regional Police is committed to our Vision of 'A Safer Community Together'. Everything we do is driven by our Mission, Vision and Values and we pride ourselves in being accountable to our community. We are the third largest police service in Ontario and the fourth largest municipal police service in Canada. We serve the Region of Peel which has over 1.4 million residents, and the Pearson International Airport which sees an estimated 35 million people pass through every year. One of our objectives is to address crime through call response, investigations, enforcement, and police visibility. With over 2,000 police officers and 800 civilian employees, our solvency rates are some of the highest in the country and our crime rates are below provincial levels.
Mission, Vision and Values
Mission:
To protect the lives, property and rights of all through service excellence and community engagement.
Vision:
A Safer Community Together.
Values:
Our values are formed out of TRUST:
T - Trust is the foundation of all we do.
R - Respect for the dignity and rights of all others.
U - Understanding our community.
S - Safety through service excellence.
T - Transparency at all times.
Code of Conduct and Code of Ethics
Code of Conduct
Peel Regional Police officers are held to a high standard of excellence. While on and off-duty, our officers' conduct is governed by the Police Services Act (PSA) of Ontario. This Act is legislation that applies to all police officers in the province and sets out responsibilities for Police Services and their officers.
Code of Ethics
Our Code of Ethics provides all of our employees with clear guidelines that establish expectations of their conduct. Some of the highlights include:
Upholding the organization's values of trust, respect, understanding, safety and transparency.
Carrying out duties within the law.
Exercising good judgement.
Equity and Inclusion
We are dedicated to providing an inclusive and equitable police service that our employees and community can be proud of. We ensure our service attracts and retains skilled employees who are reflective of our community. We have also met and exceeded standards set by Excellence Canada, and provided bias-free training programs to inform and educate our employees to recognize their own biases. We also offer a number of services to the public and our employees in multiple languages and accessible formats.
Community Engagement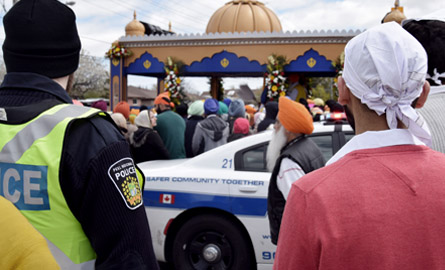 Our community is at the heart of everything we do which is why we work hard to engage and build partnerships with the public. Community safety can only be achieved together with the community and to ensure we receive input and feedback from distinct parts of the community, we created the Chief's Advisory Committees. To date, these committees include the Black, Chinese, LGBTQ+, Muslim, Sikh and Youth communities and these committees enhance relationships and build trust.
As we work to prevent crime, community initiatives, awareness and educational programs are key. We have a number of proactive youth partnerships, including School Resource Officers detailed to every secondary school.
Our Community Mobilization Teams work with the public to improve safety, wellbeing and develop long-standing trust. These teams attend various events, give community presentations and work with the community on projects to reduce crime.
Our social media accounts support the transfer of information both inside and outside the organization and allow us to constantly communicate with the community.
Our employees also spend numerous hours volunteering and fundraising to assist those in our community who are in need. Since 2006, over $14 million has been raised for various charities, through efforts by Peel Regional Police and community members.
We also regularly survey a random selection of households and businesses throughout Mississauga and Brampton to seek their input into the delivery of police services. The feedback received is important to our strategic planning process and for the development and delivery of policing services and programs.
Strategic Plan
The Strategic Plan is the result of collaboration between the residents of Peel Region, Peel Regional Police and our community partners, with the goal of making the community safer. The plan is a guide for the organization to move forward in ways that reflect on the Peel Regional Police core values of Trust, Respect, Understanding, Safety and Transparency.
The 2017-2019 Strategic Plan has three areas of focus:
Community Safety Together
Improving and promoting community safety is our highest priority. To do this we address crime proactively, strengthen community engagement and create educational seminars/materials.
Professional, Diverse and Supportive Workplace
We aim to be an employer of choice by being open and supportive of inclusion and diversity in the workplace. Our goal is to attract and retain skilled employees, promote the well-being of our members and provide opportunities for development and training.
Quality Service and Fiscal Responsibility
We deliver quality services ensuring accountability and fiscal responsibility.
View the 2017-2019 Strategic Plan or check out our Strategic Plan ebook, which is a great overview of the plan.