Messages from the Chair and Chief
Message from the Chair, Peel Police Services Board
On behalf of the Peel Police Services Board, I am proud to acknowledge the exceptional accomplishments and successes of all the members of Peel Regional Police in 2022.
Peel Regional Police remains a leader in modern policing practices in our province, adapting to the evolving and intricate needs of our diverse and growing community. The launch and implementation of the Community Safety and Well-Being strategy in 2022 has fostered invaluable partnerships and collaborative relationships, ensuring that our residents receive prompt and optimal service.
The Peel Police Services Board is fully committed to collaborating with Peel Regional Police to advance their objectives and address the Region's needs in order to foster a "Safer Community Together."
To our community, we encourage you to read the 2022 Annual Report, which showcases the professionalism, dedication, and unwavering commitment to community safety from each of the 3,168 civilian and uniform members of Peel Regional Police.
Sincerely,
Nando Iannicca
Chair, Peel Police Services Board
Peel Police Services Board Members
Left to Right: Sumeeta Kohil (Vice Chair), Bonnie Crombie (Mayor, City of Mississauga), Patrick Brown (Mayor, City of Brampton), Ahmad Attia, Alan Boughton
Message from the Chief, Peel Regional Police
It is my pleasure to provide our community with the Annual Report for 2022. Within, we highlight the many innovations, investigative successes and improvements in service delivery as we continue on our organizational transformation.
Guided by our Strategic Plan and our aspirational vision of modernizing policing in Peel, we have launched and operationalized our Community Safety and Well-Being strategy. By building relationships with community partners and stakeholders, we have created new pathways to deliver service to calls that are non-criminal in nature. In launching several, more effective, non-traditional and non-police response for calls that require health or human services intervention, we are allowing our frontline officers to focus on responding to high-priority calls and the urgent needs of our community.
Our members, both sworn and civilian, have accomplished so much in 2022. I am proud to highlight some of their successes in the past year:
Operationalized 'Our Way Forward', the Community Safety and Well-Being Strategy.
Implementation of human rights-centered initiatives across the organization such as creating a new Anti-Racism Advisory Committee and implementing mandatory training for all members.
Developed and expanded the Internal Support Network (ISN) Program with three new ISNs to promote inclusivity and diversity, allowing employees to feel heard and valued within a safe space throughout the organization.
Launched the Clinician Crisis Rapid Response Team and Embedded Clinician Crisis Rapid Response Team pilot projects. These non-police response programs address a region-wide increase in calls-for-service for non-violent calls that require a mental health, addiction-related or human services response.
Launched the new PremierOne (P1) Computer Aided Dispatch (CAD) system as part of our innovation journey to modernize and integrate technical solutions as we build for the future.
To all of our Peel Regional Police members that have committed themselves to delivering the highest level of service excellence to our community, you have my most sincere thanks. To the Police Services Board, Regional Council, our community partners, volunteers and members of the public, your ongoing support and commitment is invaluable and necessary to achieve our Vision of "A Safer Community Together".
Nishan Duraiappah
Chief, Peel Regional Police
Chief's Management Group Members
Left to Right: Deputy Chief Marc Andrews, Deputy Chief Mark Dapat, Deputy Chief Nick Milinovich, Deputy Chief Anthony Odoardi
Policing Our Community
Peel Regional Police is comprised of five divisions, and specialized bureaux that provide frontline and investigative services to the 1.5 million residents of Mississauga and Brampton, and the 35.6 million* people who visited through Pearson International Airport in 2022.
Located within Headquarters are Executive Administration, Corporate Communications, Facilities Management, Finance and Planning, Human Resources, Legal Services, Operational Planning and Resources, Organizational Wellness, Professional Standards, Security Management and Corporate Strategy.
Sir Robert Peel Centre is home to Communications, Community Safety and Well-Being Unit, Forensic Identification Services, Information Technology Services, Records Services and Risk Mitigation.
The Emil V. Kolb Centre for Police Excellence houses specialty bureaux such as Corporate Learning, Emergency Services, Frauds, Homicide and Missing Persons, Intelligence Services, Recruiting, Special Victims Unit, Training and Specialized Enforcement.
Fleet Services, Mobile Technology Group, Quartermaster Stores, and Specialized Asset Management are located at the Materials Management Centre.
Court Services, including Case Management, Court Security and Prisoner Escort operate out of the A. Grenville and William Davis Court House, the Brampton Provincial Offences Courthouse and the Mississauga Provincial Offences Courthouse.
* Pearson Airport visitors continue to be below pre-pandemic levels as a result of COVID-19 travel restrictions.
Our Divisional Superintendents
Left to Right: Superintendent David Kennedy (11 Division), Superintendent Robert Higgs (12 Division), Superintendent Raj Biring (21 Division), Superintendent Sean Gormley (22 Division), Superintendent Waheed Butt (Airport Division)
Map Legend
1. 11 Division
2. 12 Division
3. 21 Division
4. 22 Division
5. Airport Division
6. Brampton Virtual Substation
7. Cassie Campbell Community Station
8. Collision Reporting Centre
9. Materials Management Centre
10. Headquarters
11. Malton Community Substation
12. Emil V. Kolb Centre for Police Excellence
13. Sir Robert Peel Centre
14. Square One Community Station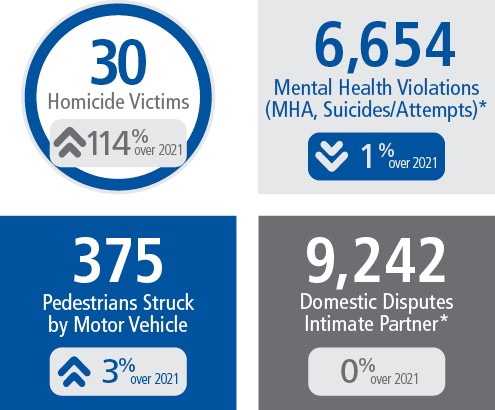 * Data is based on reported.
2022 Workload
The Peel Regional Police Communications Centre plays a key role in ensuring the safety of our community by streamlining calls for service. There were 361,083 policing events created in 2022 through our Computer-Aided Dispatch (CAD) system. Of the total call events, 66% were citizen-initiated events, with the remaining 34% being officer-initiated events and administration duties.
Calls To Our Communications Centre
| | | |
| --- | --- | --- |
| Type of Call | Total Calls | Variance from 2021 |
| Total Calls Received (911 + NonEmerg) | 839,632 (2,300 per day) | 15% |
| 9-1-1 Call Received | 644,106 (1,765 per day) | 30% |
| Immediate Response | 72,047 (197 per day) | 8% |
| 9-1-1 Calls Deemed Inappropriate | 305,639 (837 per day) | 29% |
| NAQs (No Answer Queue) | 149,232 (409 per day) | 27% |
Dispatched Citizen Initiated Events
| | | |
| --- | --- | --- |
| Time to Dispatch Event | Call Priority | Total |
| Immediate Mobile Response | Priority 1 | 72,047 |
| Dispatch within 5 minutes | Priority 2 | 15,355 |
| Dispatch within 15 minutes | Priority 3 | 28,157 |
| Dispatch within 1 hour | Priority 4 | 24,355 |
| Total Mobile Dispatched Events | Priority 1-4 | 139,914 |
Top Five Citizen Initiated Events Requiring Immediate Response
Domestic Dispute - Family and Intimate Partner
Medical Assistance
Motor Vehicle Collision - Personal Injury
Disturbance
Impaired Driver
Successful Partnerships and Joint Forces Operations
$11.1 Million of Vehicles Seized
Peel Regional Police's Commercial Auto Crime Bureau commenced a multi-jurisdictional investigation with law enforcement agencies and partners including Halton Regional Police, York Regional Police and Caledon OPP. The project commenced in October 2021 and concluded in January 2022, resulting in the recovery of over 200 stolen vehicles worth over 11 million dollars and the arrests of numerous members of a prolific auto theft ring.
As a result of this investigation, nine residential search warrants were executed across Peel, Halton and York Regions. A total of 24 people were arrested and charged with 321 offences.
217 vehicles recovered, valued at $11.1 Million
Seized a loaded handgun with prohibited extended magazine and laser sight
$100,000+ seized as proceeds of crime
Automobile forgery documents and instruments seized
Fraudulent government documents seized
$70 Million of Drugs Seized
Peel Regional Police and Royal Canadian Mounted Police – Stoney Creek joined Niagara Regional Police Service to lead a multi-jurisdictional and multi-agency Joint Force Operation which commenced in December 2021. This investigation involved human trafficking and large amounts of cocaine being smuggled into Canada from Mexico and Los Angeles as well as cannabis being produced on a massive scale in Canada and smuggled into the United States.
In September 2022, 12 search warrants were executed at various residences by 175 police officers from agencies across southern Ontario and the Canada Border Services Agency. The warrants resulted in the arrests of 20 individuals from Brampton, Milton, Niagara Falls, Thorold, Etobicoke, Mississauga, Woodbridge, Richmond Hill and Hamilton. A total of 128 charges were laid.
400 pounds of cannabis valued at $1.3+ million seized
45,000 pounds of marijuana plants seized
20,000 pounds of processed cannabis valued at $62 million seized
82 kg of cocaine worth approximately $3.2 million seized
6 firearms seized
$467,000 in currency seized
6 stolen vehicles seized
$25 Million of Drugs Seized
In November 2021, investigators from Peel Regional Police's Specialized Enforcement Bureau (SEB) commenced an 11-month long investigation into a crime group which utilized the commercial trucking industry to illegally import drugs across the US-Canada border. The Border Enforcement Security Task Force (BEST) including Homeland Security assisted SEB from the onset of the project with U.S. border crossing checks which assisted in identifying companies and drivers.
As a result of this investigation, the investigative team executed nine search warrants. A total of five people were arrested and charged with 11 offences.
186 kilograms of cocaine
182 kilograms of methamphetamine
38 kilograms of ketamine
$70,000 in currency seized
Total value of drugs seized was approximately $25 million
27 Handguns Seized
From February to July 2022, Peel Regional Police assisted York Regional Police's Guns, Gang and Drug Enforcement Unit (GGDEU) in a drug trafficking investigation. York Regional Police commenced an undercover-led investigation into street level drug trafficking by a Greater Toronto Area (GTA) based street gang involved in the distribution of cocaine, fentanyl and firearms. A Joint Forces Operation including Peel Regional Police, Ontario Provincial Police's Provincial Weapons Enforcement Unit (PWEU), London Police Service, Homeland Security Investigations (HSI) and Criminal Intelligence Services Ontario (CISO) was formed to dismantle the drug and firearms trafficking network associated to this street gang.
A GTA based drug trafficking network and a London area firearms trafficking network were identified as a result of the investigation. The firearm trafficking network is believed to have sourced its firearms from the United States and the guns were smuggled through Walpole Island First Nation.
Over 400 officers were involved, 22 search warrants were executed on residential homes, vehicles and businesses, and over 400 Criminal Code and Controlled Drugs and Substances Act charges were laid against 22 people.
27 handguns seized
6 magazines seized
10,000 Xanax pills seized
5-6 kilograms of cocaine seized
Half to 1 kilogram of fentanyl seized
$100,000+ in currency seized
Half kilogram of crack cocaine seized
5 vehicles seized
Awards, Recognition and Promotions
Each year, there is an extensive list of awards presented to Peel Regional Police employees, recognizing their hard work, dedication and successes. The following list highlights some of those awards and recipients.
Awards and Recipients
Officer of the Year Award
Cst. Shayne Lemieux
Frontline Officer of the Year Award
Cst. Kurtis Ricci
Civilian of the Year Award
Julie Crispo, Amy Macneill-Falls
Officer Supervisor of the Year Award
S/Sgt. Michael Ratych
Civilian Supervisor of the Year Award
Bonnie Sliwinski
T.E.A.M. Award – Investigative
AKL Homicide Investigation
S/Sgt. Kevin Cranley, D/Sgt. Philip King, S/Sgt. Stephen Nickson, D/Sgt. Michael Pulley, Det. Robert Bryant, Det. Darren Hurley, Det. Andrew Johnston, Det. Michael Mavity, D/Cst. Rehan Abdul Khaliq, D/Cst. Arun Adhya, D/Cst. Eric Anderson, D/Cst. Aman Bhalla, D/Cst. Ian Chen, D/Cst. Denis Chiu, D/Cst. Timothy Church, D/Cst. Phillip Danek, D/Cst. Ninad Desai, D/Cst. Christopher Galvao, D/Cst. Jeffrey Gardner, D/Cst. Andrew Garven, D/Cst. Jayne Glover, D/Cst. Aaron Gomes, D/Cst. Marc Hobor, D/Cst. Kelly Jackson, D/Cst. Grace Kempers, D/Cst. Romeet Kindra, D/Cst. Sean King, D/Cst. Slav Kosarev, D/Cst. Stephen Lancia, D/Cst. Jeff Landry, D/Cst. Matt Lee, D/Cst. Kevin Leuschner, D/Cst. Sanya Luciani, D/Cst. Michael Malcovich, D/Cst. Michael Marling, D/Cst. Sean McCurley, D/Cst. Gavin McIntaggart, D/Cst. Thomas McLean, D/Cst. Stephanie Melo, D/Cst. Paul Mohammed, D/Cst. John Neilson, D/Cst. Heather O'Connor, D/Cst. Amanda Pileggi, D/Cst. Patrick Quackenbush, D/Cst. Ariel Reyes, D/Cst. Kevin Robbie, D/Cst. Mike Rogers, D/Cst. Ian Shirley, D/Cst. Gurbakhshish Sidhu, D/Cst. Lorna Szabo, D/Cst. Lucas Yip
T.E.A.M. Award - Corporate Project
Homicide TT Mentorship Program
S/Sgt. Kevin Cranley, D/Sgt. Philip King, S/Sgt. Stephen Nickson, Det. Andrew Johnston, Det. Michael Mavity, Cst. Jeffrey Gardner, Cst. Grace Kempers, Cst. Jeff Landry, Cst. Michael Malcovich, Cst. Stephanie Melo, Cst. John Neilson
T.E.A.M. Award - Community Safety Well-Being Project
11 Division B Platoon – Back to School Project
S/Sgt. Mustafa Durgun, S/Sgt. Paul Quashie, Sgt. Michael Lambert, Sgt. Chad Lemaire, Sgt. Iain McGibbon, Cst. Tory Anderson, Cst. Eric Armstong, Cst. David Ball, Cst. Russell Balram, Cst. Nelson Bodden, Cst. Matthew Bucher, Cst. Bogdan Dinescu, Cst. Jesse Flynn, Cst. Lukas Gavac, Cst. Anthony Gavilanez, Cst. Daniel Gemmiti, Cst. Randell Gloria, Cst. Evan Gormaly, Cst. Ashley Grant, Cst. Monique Howell, Cst. Sarah Howorth, Cst. Randy Huynh, Cst. Jermaine Jeffrey, Cst. Ayeisha Khan, Cst. Robert Kristensen, Cst. Mariusz Kudzma, Cst. Mark Kukovica, Cst. Mark Macintosh, Cst. Patrick Martino, Cst. Ricardo Marttini, Cst. Alan Mascarenhas, Cst. Wahid Mohammad Sharif, Cst. Jennifer Mormile, Cst. Kyle Motyka, Cst. Barrett Mucci, Cst. Rahul Parmar, Cst. Magdalena Podyma, Cst. Sosan Qaderi. Cst. Evan Rattan, Cst. Christian Rios, Cst. Mark Roberts, Cst. Andrew Rose, Cst. Michael Scamurra, Cst. Aaron Stacey, Cst. Michelle Stafford, Cst. Douglas Tannahill, Cst. Brodie Turner, Cst. Naethen Van Dyke, Cst. Jose Vasquez, Cst. Paul Vreugdenhil, Cst. Wei Wang
Communications Award
Jennifer Burke
Constable Matt Parr Academic Award
Cst. Miguel Bona, Cst. Mandy Hsieh, Cst. Navi Nar
Constable Matt Parr Impaired Driver Apprehension Award
D/Cst. Yeun Park, Cst. Jesse Flynn, Cst. Omar Omar, Cst. Roshanda Robinson, Cst. Dante Vassallo
Constable Matt Parr Auxiliary Officer R.I.D.E. (Year long) Program Award
Auxiliary Cst. Khatoun Shamoon
John K. Forbes Memorial Award
Cst. Harmanjit Sandhu
Marion Reeves Health and Fitness Award
Cst. Thomas Atkinson
Paul Schram Memorial Award
Ivana Markulin
Brampton Board of Trade – Police Service Award
Cst. Simratpal Soodan
Mississauga Real Estate Board - Police Merit Award - Team Submission
Cst. Darren Glaab, Cst. David Petrucci
Ontario Women in Law Enforcement (OWLE) Award
Cst. Judith Solomon
Axon RISE Officer Award
Cst. Judith Solomon
Police Officer Exemplary Service Medals
40 Years
D/Sgt. W.Bruce Chapman
30 Years
Cst. Kara Brown, Supt. Waheed Butt, Sgt. Glen Clement, Cst. Brian Davidson, Sgt. Erick De Leon, D/Sgt. Dennis Edwards, S/Sgt. Scott Harrison, D/Sgt. Kyla Hunter, Cst. Kelly Jackson, Cst. Michael Low, Cst. Karen McNeilly, Sgt. Andrew Perry, Supt. Taufic Saliba, Sgt. Luis Simoes, S/Sgt. Matthew Small, D/Sgt. Robert Smith, Det. Harry Tam, Cst. Lee-Ann Turza, Det. Gregory Wood
20 Years
Det. Adam Arifi, Cst. Darren Barden, Cst. Jennifer Bissell, Cst. Christopher Bravener, Cst. Jason Buchanan, Cst. Andrew Cade, Cst. Trevor Campbell, D/Sgt. John Carrabs, Det. Jeffrey Chamula, Cst. Stephen Chapman, Cst. Todd Chapman, Cst. Jerry Chaulk, Cst. John Cook, Sgt. Paul Corcoran, Cst. Larry Cota, Det. Sebastian Cuoco, Cst. Sean Custodio, Cst. Alisa Daniele, Cst. Caroline Derouet, Cst. Brandon Ferro, Cst. Christopher Ford, Sgt. Ricardo Garcia, Det. Baljit Gill, Cst. Jeremy Greyerbiehl, S/Sgt. Andrew Harris, Cst. Jason Henry, Cst. Matthew Killam, Det. Jason LaChappelle, Cst. Edward Mante, Cst. Danny Marttini-Chapman, Cst. Christopher McHugh, Cst. Mark McLaughlin, Det. Rui Medeiros, D/Sgt. Karen Meeker, Cst. Stephanie Melo, Cst. Vito Montesano, Sgt. Lisa Moses, Sgt. Stephen Nickson, Cst. Aaron Paisley, Cst. Sean Parkin, Sgt. Matthew Philips, Cst. Andrew Price, Sgt. Michael Ratych, Sgt. William Richel, Det. Tonya Richel, Sgt. Jason Schwartz, Det. Patricia Shearer, Sgt. Andrea Simons, Sgt. Charan Singh, Cst. Maria Smith, Cst. Monique Sondergaard, Sgt. Benjamin Toriumi, Sgt. Robert Trujillo, D/Sgt. James Zucchero
Peace Officer Exemplary Service Awards
30 Years
Nhung Nguyen
20 Years
Jennifer Gigliotti, Lana Nunnaro
Civilian Service Awards
40 Years
Elizabeth Black, Angela Butterwick, Diane Cossitt
30 Years
Jeanette Arney, Catherine Ash, Pamela Binsell, Rosanne Brett, Joao Cabral, Milka Cabral, Arlete Carvalho, Karen Greening, Donna Gwillam, Nhung Nguyen, Susan Pedra
20 Years
Michael Alexander, Ryan Anstey, Melissa Blackett, Sara Congiusti, Tracy Coulter, Sarah Dale, Ronda Everitt, Mary Garvey, Linda Gennara, Denzil Hunnighan, Julia Jensen, Herman Khaper, Tanya Kroll, Karen Landers, Manuel Medeiros, Simon Mizzi, Orysia Muzyczka, Lana Nunnaro, Evan Ortolan, Lina Parente, Mike Regueiro, Tammy Spence, Launa Ward, Edgar Williams
35 Year Service Ring
35 Year Service Ring
Heidi Bell, Det. Michael Bruce, Karyn Carty, Insp. Scott Clair, D/Sgt. Joseph D'Angela, Insp. Michael Donnelly, Angela Gallagher, Sandra Mele, Sgt. David Neville, S/Sgt. Paul Neville, Sgt. Colin Preddie, Insp. Donald Ross, Sandra Vosburg, Insp. Thomas Warfield, Caroline Wong
25 Year Service Watch
25 Year Service Watch
Insp. Lisa Hewison, Cst. Tanya Jardine, S/Sgt. Jeffrey Jensen, Sgt. Michael Lambert, D/Sgt. Raymond Linton, Sgt. Michael MacDougall, Det. Warren McPherson, D/Sgt. Matthew Miller, Paula Morissette, Cst. Edwin Mulder, Insp. Bob Nagra, Insp. Timothy Nagtegaal, S/Sgt. Alan Nulle, Cst. William Peace, Sgt. Andrew Perry, Supt. Heather Ramore, D/Sgt. Joey Rego, A/Sgt. Paul Robichaud, Cst. Andrea Schulz, D/Sgt. Earl Scott, Cst. Harvey Sham, Deborah Sharp, Sgt. Michael Szabo, Insp. Shelley Thompson, Det. Grant Thomson, D/Sgt. Allan Villers, Cst. Tracy Wilkinson, S/Sgt. James Wingate, Det. Andrew Wyatt
Promotions
Deputy Chief
Mark Dapat
Superintendent
Taufic Saliba
Inspector
Kristine Arnold, Natalie Hiltz, Derek Meeker, Timothy Nagtegaal
Civilian –Manager
James Felton
Staff Sergeant/Detective Sergeant
Donald Deelen, Paul Dhillon, Darren Doody, Jeffrey Duffield, Nick Gregoriou, Sandro Leo, Michael Lockington, Mark Mazzocato, Stephen Nickson, Michael Ratych, Tonya Richel
Supervisor – Civilian
April Chicorli, Patricia Kelly, Vikram Sundaram, Steve Zanon
Sergeant/ Detective
Mark Ambrosio, Darren Barden, Michael Bishop, Joseph Calabrese, Gary Dias, Amanda Drexler, Kevin Falkner, Brian Lorette, Daniel Masters, Aaron Meisner, Jonathon Nowak, Charles Robitaille, Stephen Sherwin, Adrian Shipp, Benjamin Toriumi, Jeffrey Vanderwal, Adam Westbrook, Justin Williams, Jonathan van Staalduinen